In Bilbaoclick we have prepared a Gourmet route where you will find the "selection 2019 of our favorite restaurants" to eat or dine but also other perhaps smaller but exclusive sites, which we also love, ie a selection for Go for a snack or breakfast and even some other proposal Take Away interesting. They're all exclusive sites. And we propose to you that when you leave do not spend hours deciding where to go. With this route the decision will be much easier to enjoy! We!
Aspaldiko Restaurant is unique in Euskadi not only for its fantastic gastronomic proposal of tradition and vanguard but also for its solera. It is located in a historic farmhouse of Loiu, close to Bilbao airport. Qualified as an artistic historical monument, it is one of the last specimens of the traditional Basque architecture built exclusively of wood with different dining rooms and capacity for 300 people. Outside the restaurant we can see spectacular peacocks moving freely through the magnificent gardens and terraces that we can enjoy all year. This extraordinary restaurant is directed by Javier Villar.
Yandiola Restaurant is one of the favorite places for visitors because of its uniqueness. You will find tradition and innovation: Biscay cuisine based on the autochthonous product. Its space is in Azkuna Zentroa (Corn Exchange), a building rehabilitated by the American interior designer Philippe Starck that is worth visiting. His chef is Ricardo Pérez, who uses ingredients from the sea and the land that he elaborated with excellence. In the menu you will discover classic dishes with a renewed spirit as the basis of a healthy and quality cuisine. For that reason, their Slow food elaborations preserve all the flavor and the aroma of the food, looking for the harmony and the pleasure of the senses. Its culinary offer adapts to all types of public and needs. It has one of the best terraces in Bilbao.
Address: Bldg. Azkuna Zentroa (Corn Exchange), Plaza Arriquibar 4, Bilbao (by the elevator).
 
 The Beltz Gourmet restaurant located at the Gran Hotel Domine, has been renovated and offers a new and current perspective of Basque gastronomy, with a great influence of the local product and its culture. A proposal elaborated with a personal style and from the search of flavors, textures and different contrasts. In its new space we will find a reinterpretation of its culinary concept, where the stone and wood in dark shades are in a relaxing atmosphere full of sensations. His chef is Abel Corral. Address: c/Alameda de Mazarredo, 61. Bilbao.
In Tamarises restaurant that overlooks the sea, its chef Javier Hoista has designed a product-market cuisine, with the flavors of always but a little renewed and creative. Its restaurant is the ideal place for any celebration: weddings, communions, baptisms, family meals, business events… The spaces of Tamarises hoist are completely refurbished, and are located next to two terraces, the top and bottom, both open to the sea. In its restaurant on the first floor, as we you will discover in addition to exquisite dishes, the best fish and seafood, roasted in charcoal and presented with great delicacy and MIMO while you can see fantastic views.
Address: Muelle de Ereaga, 4. Getxo.
The Nerua Guggenheim Restaurant is located in Guggenheim Museum Bilbao, next to the sculpture of the Spider ' Mama ', by the artist Louise Bourgeois. A space designed to live a delicious gastronomic experience. In his kitchen stands out the production game, where they share complex tasks that help to flow to the rest of the games and broths. Without this, your kitchen would make no sense. Every day, thirty different funds are drawn up that agglutinate all their elaborations. Its responsible is Chef Josen Alija (1 Michelin star and 3 suns in the Repsol guide).
Address: Avenida Abandoibarra, 2 Bilbao.
At Guggenheim Bistro Restaurant Bilbao We will be able to enjoy its magnificent menu, a tasting menus or an express menu. We will discover old recipes and sauces, but refined, evolved and adapted for the general public, looking for a tasty, healthy cuisine and an informal dining experience. It has great wines and homemade desserts. His chef Alejandro Bazán and the Maître Imanol Mancha will make our visit a perfect and unforgettable experience. Address: Avda. Abandoibarra, 2 (entrance by the Esplanade of Puppy) 48009 Bilbao.
Nura Restaura
nt is a suggestive and charming local hotel located in the old part of Bilbao (next to Bilborock) you can savour appetizing dish
es tha
t blend to perfection tr
a
dition and vanguard. It is a place with great value for money in which you can enjoy a suggestive cuisine that stands out for its excellent raw material and the originality of its dishes.
Nura
you will be surprised by
its me
nu designed in very interesting dishes. One of the curiosities of this restaurant is that you will be a
ble to
design your
own menu at competitive prices.  
From Monday to Friday they offer a fantast
ic menu of th
e day, consisting of four first courses, four seconds and desserts to choose from, accompanied by bread, water or house wine. Th
e Nura Weekend menu offer
s a complete selection of dishes that your managers update according to the season and you can combine to your liking to create your own menu. Its responsible are
Gabriel Portella and Eder Góm
ez address:
c/Dos de Mayo 1 Bilbao.

In
Restaurante Sukal
de you will be able to taste the authentic products of our land, although it also incorporates th
e exceptional ox-steak of valleys
of the IS, a
great roasted
suckling lamb with a wide variet
y of tasty specialties
. Not forgetting
the seasonal fish, a
mong them the se
a bream…
And
the PiL PiL cod th
at its
chef Garbiñe Alkorta
cooks in a spectacular way
.
There is also a selection of local wines. National and international and delicious homemade desserts.
Address:
c/Elcano 21 Bilbao.

Restaurante Asador Sarriena
House specializes in charcoal roasts. It is in a well-communicated rural setting. The Ember and the wood-fired oven are the protagonists along with a
sugg
estive men
u of fish and grilled meat
s, always with a local and seasonal product: steak, sirloin, roasted in wood-fired oven, piglet, goat, shoulder, turbot, sea bass , hake or clams in green sauce… without forgetting about other more current dishes that produce them with slow cooking. The restaurant offers traditional cuisine and multi-cultural gastronomic fusion, both for special celebrations and for its excellent menus of the day that are served from Monday to Friday or its weekend menus… It also has
a reserved for small celebrations or business lunches
. Address: B
arrio Sarriena 166, 48940 Leioa, Bizkaia, 10 minutes from Bilbao.

Restaurant Café L
e Caf
é proposes in it
s new menu
a proposal of ex
ceptional flavors.
You
r daily menu
changes every week. You will also enjoy your
breakfast
s a
nd uninterrupted cafe
teria service. It is located in a magical place; In front of the
Guggenheim Museum.
Its large panoramic window overlooks the museum.
Address: A
lameda de Mazarredo, 61 Bilbao.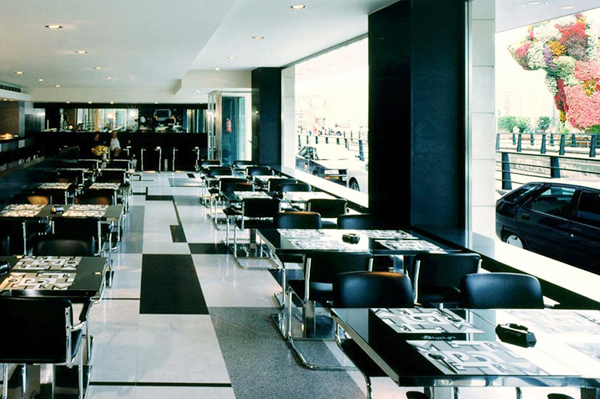 Sustraiak
Restaurant
of the Gran Casino Bilbao presents a spectacular space located on the first floor of the casino Bilbao in which the harmony of its cuisine and the balance with which treats all its dishes surprises all those who come to this restaurant. His
chef Oskar Rodríguez
presents us with an avant-garde proposal. Your kitchen is product-based. Find technical, fun and traditional dishes; Travelers… but especially rich. It has different menus: executive and tasting.
Address: C/Lutxana S/n at Gran Casino Bilbao.
To take:
For meetings at home or when you don't want to cook or go out, we propose something different: two quick and fun proposals.
Sushi Artist offers the possibility to eat in your premises; Take away and on-site service. You can order online via your website or by downloading your app on your mobile phone. With the first order offer 10% discount!  LLamandopor phone Tambén You get the order to areas such as Bilbao, Getxo, Berango, Erandio and Leioa in less than 40 min. offers sushi quality at a very affordable price.
Addresses:
Licensed Poza 48, 48013 Bilbao
Bidarte Shopping Center. Deusto
BM Elcano/C/Elcano 24
Artea Shopping Center. Leioa
C/Correo 12
 
Empanadas & Co has two establishments in Bilbao, where you can taste the authentic Argentinean food as artisan empanadas, and other products of Argentinian origin such as wine, alfajores, yerba mate and dulce de leche, which you can enjoy in any Part thanks to its Take Away service.
Directions: Licensed Poza 53 and Alameda San Mamas 34.
For Mederendar:
Don Manuel Patisserie makes exquisite cakes, chocolates pasta and pastries, all artisan. Behind this great project is the master craftsman Jose Manuel Angulo with a great career that reaches the 40 years in the sector.
Address: Alda. Urquijo 39 Bilbao.
Sanwicoffee is a cosmopolitan Local concept, located under the Iberdrola Tower in Plaza Euskadi, specialising in the elaboration of quality sandwiches made at the moment and traditional, unique and original coffee preparations; Burgers, juices, desserts… They have interesting menus, a varied menu.
Address: c/Ramón rubial N º 4-6 (Plaza Euskadi) Bilbao.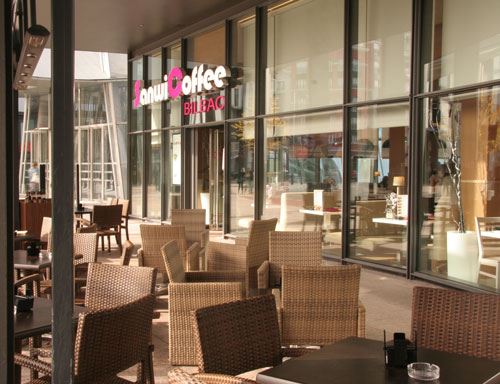 Wiché is what we can call a Petit Couisin because it moves us to the beautiful cafes of the French capital with its characteristic decoration. It is a quiet, luminous and pleasant place where you can enjoy your breakfasts, lunches and snacks in a tranquil setting. Discover its appetizing sweet letter with waffles, milkshakes, frappes, pancakes, special coffees.
Address: Plaza del Ensanche 9 Bilbao.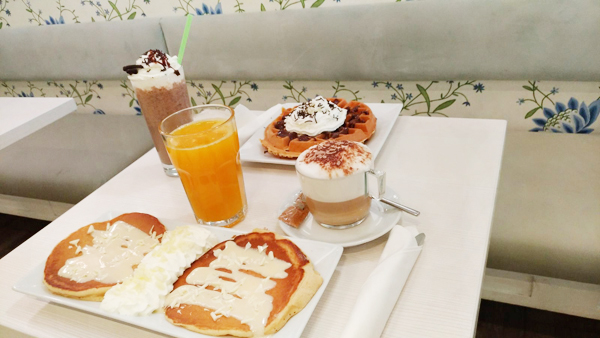 Shopping centre:
In the Zubiarte shopping centre you will find different restaurants and take away proposals. It is located on the banks of the estuary of Bilbao, next to the Deusto Bridge. It shares space with the Iberdrola tower, the Guggenheim and fine Arts Museums and the Euskalduna Palace. We can walk, by tram, metro or by bus. The Bilbao shopping centre, after its inauguration, assumed a revolution in the customs of the Bilbao.
Address: Lehendakari Leizaola, 2 Bilbao.